It's that time of the year! Shopping for gifts for your friends and family can be daunting, especially if they love dogs. But fear not! This holiday season we've curated twenty of our favorite gifts so you can shop with ease and find something for every dog lover in your life.
This beautiful candle is sold by Hello You Candles on Etsy. This 100% American soy-based, hand-poured candle is fragranced with essential oils to make your home smell warm and inviting! Comes in a wide range of scents from Four Leaf Clovers and Breakfast in Bed to Enchanted Forest and Warm Vanilla. These candles can also be personalized and delivered to your recipient.
One of the internet trends over the last couple of years has been to shame your dog by placing a sign around their necks or at their paws detailing something naughty they did. This calendar chooses some of the best-of-the-best to make your recipient chuckle a little everyday!
This 15oz stemless wine glass with a sweet dog decal comes with the message "Dogs & wine make life better". The glass is dishwasher-safe and pairs well with your recipient's favorite wine and favorite pooch! This gift comes packaged in a durable box so it ensure it arrives safely just in time for Christmas.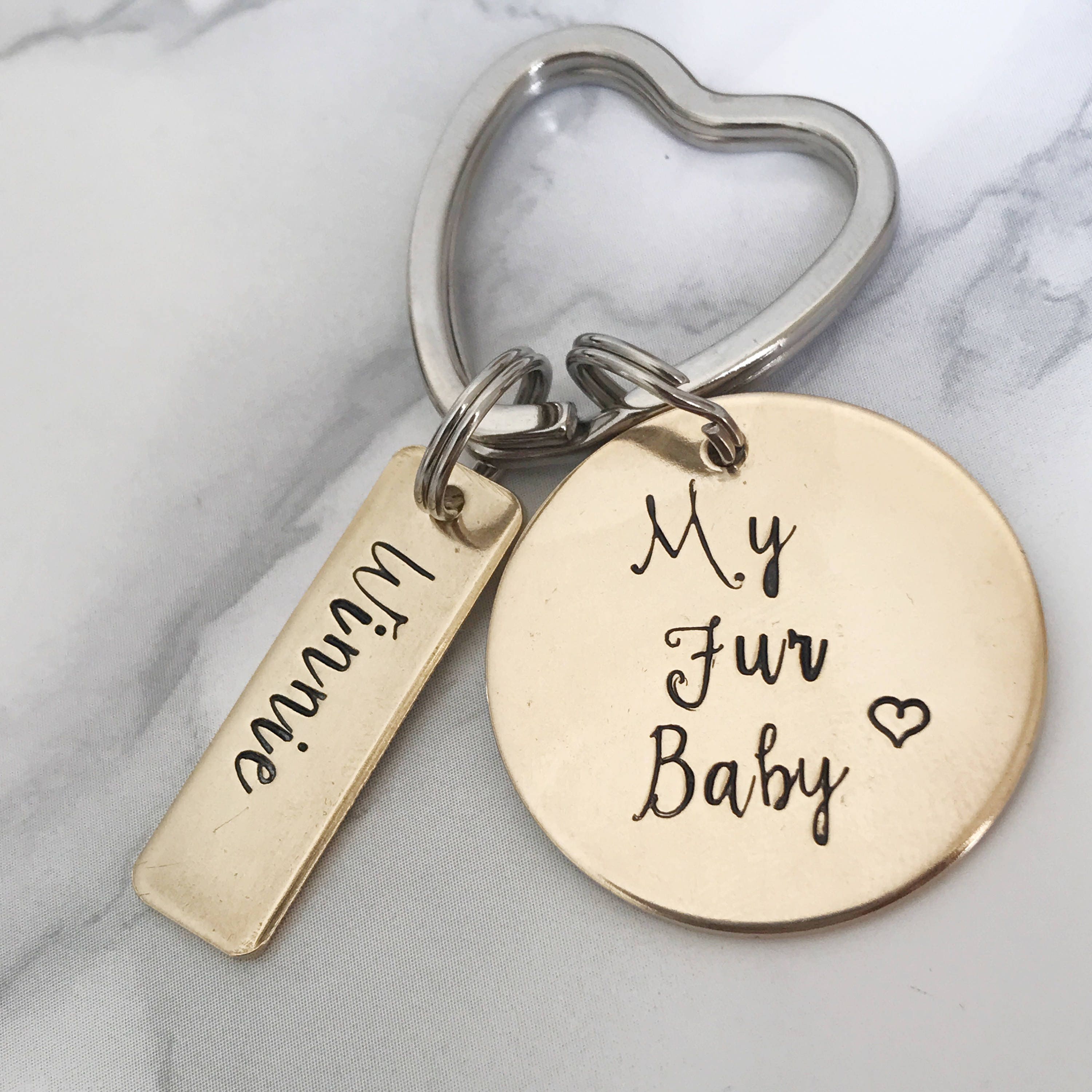 If you've wanted to give a gift that commemorates someone's special dog or dogs but also is portable and easy to carry, this is perfect! This keyring comes with a circle with the phrase "My Fur Baby" and bars with the name of the recipient's dog or dogs. Every time your recipient uses his or her keys, he or she will think not only of their furbabies but also the person who gave this gift to them!
This stunning dove-grey scarf made of cotton and polyester is adorned with labradors. In the depths of winter, this scarf will keep necks and hearts warm! It's an amazing gift for anyone who owns a Labrador, loves scarves, or both! The seller also offers scarves with other dog breeds so there's sure to be something for any type of dog lover on your list!
Your favorite dog lover can cuddle up with their puppies underneath this soft, fuzzy blanket from The Big One. Made of polyester, this plush blanket is machine washable and perfect for long winter nights spent in front of the fire. The blanket measures 5 ft by 6 ft so there is enough room for dog and dog's best friend!
Adorned with a dog bone surrounded by a heart and a dog paw, this sterling silver necklace is hypoallergenic and nickel-free. This lovely necklace looks beautiful with pretty much anything and comes with an 18-inch chain.
This beautiful wooden frame allows your dog lover to showcase a picture of their favorite companions. You're able to choose a variety of wood tones – please note that not all frames will be the same, and natural variations in tone and style may occur. Measures 9" x 7" x 0.5".
This amazing book by Rebecca Ascher-Walsh compiles inspiring stories and images which highlight the astounding abilities of dogs to rescue, comfort, and love humans without asking anything in return. This book is perfect for all dog lovers who enjoy celebrating these amazing animals.

This is the perfect sign to decorate the home of your favorite dog lover! Made of wood, this sign comes in all sorts of colors and sizes. These handmade signs also come with drilled holes for hanging on nails or screws.

Starling's silicone collapsible food and water dishes are perfect for dog lovers who take the dogs on the go with them! Constructed with BPA-free materials, these dishes hook onto backpacks, leashes, and other items for easy portability for traveling, hiking, and other outdoor activities.
Suitable for dogs and dog owners alike! This plushy stocking is a perfect accompaniment for human stockings set on a fireplace mantle! Fill it with dog toys and treats to satisfy the dogs or fill it with stocking stuffers for the dog lover! The stockings are available in small and large sizes so there's a stocking for every dog!
If your dog lover has complained about the mess dog food makes when scooping it out of a bag, this could be the right solution for them! This combo fits up to 35lbs of food combined. The large one has the capacity to hold 25lbs, and the small one can hold up to 10lbs. These containers are made of plastic and come on wheels, making it the perfect maneuver food storage solution!
Let your dog lover show their love of canines to the world with these pretty silver paw earrings come with diamond-like crystals! They serve as a beautiful addition to any wardrobe!
Your dog lover will love this beautiful glass ornament in the shape of a chocolate lab. This ornament was crafted using techniques first perfected in the nineteenth century. This ornament is hand-painted and glittered and will shine on your recipient's Christmas tree for years to come!
Your dog lover can sip coffee, tea, and hot chocolate from this funny ceramic coffee mug. Inscribed with the message, "If my dogs don't like you, I won't either," this should elicit some chuckles from everyone who sees it. A perfect gift for any dog lover in your life!

A perfect gift for dogs to cuddle in after a long day of running, playing fetch, and long walks! This beige tent comes in a variety of sizes to fit any breed of dog. On a cold, snowy night, this will be the place your recipient will be likely to find their canine companion! It's made of 100% cotton canvas and is machine-washable.
This wooden sign gives a heart-warming message that saving one dog, however someone saves them, means the world to that one dog. It's a lovely sign that fits in with just about any type of decor. Its vintage look will appeal to every dog lover on your list!
One downside of having dogs can be the fur that gets everywhere. This combination deshedding glove and hair remover can help alleviate this problem! The rubber brush not only feels great on the dogs but also helps to remove deep-seated fur from furniture. It's a win-win all around for the dog lover!
This is a one-of-a-kind, unique gift for dog lovers who also love pasta! The two packages of pasta include both dog bone- and paw print-shaped pasta. We're sure this pasta would taste great with some "paws"ta sauce! Includes two 14oz packages of pasta.
Conclusion
This time of year can be hard when it comes to finding the perfect gift for people in your life. We hope this guide provides you with some great ideas for all dog lovers in your life. At the end of the day, however, dogs give the best gifts year-round with their effusive love, unwavering loyalty, silly antics, and constant companionship.